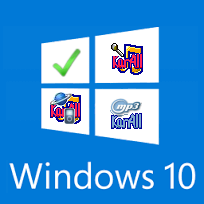 New release 1.27 of KarAll is ONLINE!

It's now available the new module Satellite-MOBILE that allows the public to use the smartphone for songs reservation, vote, to send messages. (Worldwide Exclusive!)
Under the supervision of Music-Manager


New SUB-VISION System. Worldwide Exclusive!
Dedicated to BLIND, BLIND Sub and... Everybody! Divided into 2 sub-systems:
° Sub-Vision Special, which is the part of "screen reader" management
° Speech Karaoke Helper which is the part of the text's speech and allows you to listen well in advance the karaoke lyrics without to read on a screen, also effective in many contexts for "normal-sighted".


New function Operator Messages comfortable and enjoyable. And in the presence of the system "Speech Karaoke Helper" messages can also be recited by choosing the voice, language, volume, speed and tone!


Enhanced MUSIC-GAP System (Worldwide Exclusive!) and your performance becomes ... A SHOW!
KarAll is 100% free for Spyware, Adware and Viruses
WARNING: antivirus false positive
Due to the complexity of the processes by it is made KarAll (some files are compressed) could produces any reports about virus or malware, but only by some antivirus. These reports are to be understood as false positives. In fact, many other famous antivirus can not find anything or correctly detects and reports used compression systems. We guarantee that the software produced by us is completely free from viruses or malware of any kind. So our advice is to locate files blocked by the antivirus and include them in the list of exclusions.
The download should start automatically in a few seconds.
If it doesn't



to start the download process manually.
Warning!
If requested the password to install the software is:
karall
(lowercase)
Thank you very much to try our software, you won't regret it.