Audio-Video recording
Using this function you can capture video/audio during the performance.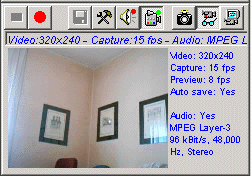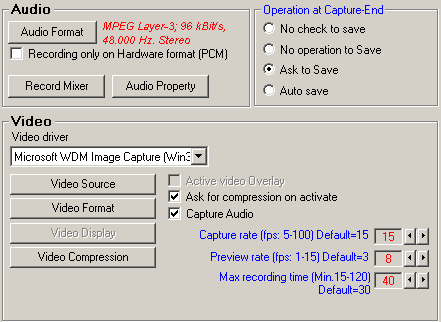 Only Audio recording
You can use the characteristics Hardware of your sound-card to record in PCM-WAV format. And later you will convert in MP3 or whichever other format using "Converi" function of Windows "Sound recorder" or whichever other program of conversion. You can also record a "Standard" Audio CD using a program released together to your CD master (ie. Roxio, Nero, etc).

Video/Audio recording
You can record the video using the same WebCam that already used for chat and audio using your sound-card. Captured video is recorded in AVI format using compression Video-Audio codecs, therefore is editabile and convertibile using whichever video editor (ie. ®Microsoft Movie Maker)

Audio-Video recording is available in ADVanced and PROfessional versions while it is demo (time limited to 15 sec.) in the Junior version.

KarAll is a "CPU intensive" application. Means that several functionalities need of much CPU-Time to works. New recording functions also need very much CPU-Time. We executed some tests for only Audio recording using ®Pentium-III and it's ok. But for Video recording functionalities must use a ®Pentium-IV PC, at least of 2,5Ghz if use "Live-View" function. We advise you to activate the "Task manager" during the tests; if CPU-Time-used is constantly over 75% the functions could have problems and loss part of the captured Audio-Video data or slowing or stop 'application. Moreover, if the captured video seems type "Slow-Motion" don't depend from program oy from operating system, normally it depends on the WebCam that does not have the characteristics to captuire a sufficient number of photograms for second (norm. 15 fps); you can check for this problem from capture statistics if a high percentage of photograms discarded.

Recording functionalities depends completely from some Windows modules, drivers of the Sound-card/Webcam and Audio-Video "Codecs" installed on your PC. In some cases could be errors for incompatibility between they or for not Windows certification. We have noticed that several codecs (MP3, DivX, XVid, etc.) are usually more stabler in Windows XP/NT/2000 rather than Windows 95/98/Me. In some case you can try to solve problems installing newest version or changing combination of Audio/Video Codecs.

We advise you to use a little time bit first time you use this functionalities to "Tuning" system
Don't worry, it's not very difficult !

Functions

Options

Stop
Stop recording
Record
Start recording
Save
Save captured Audio/Video
Options
Option control panel
Audio activate
Actives Audio recording modality
Video activate
Actives Video recording modality
Photo click
Click a photo, save and transfer on karaoke windowbackground
Video Preview
To view captured video scene in a smalle window to regulate capture parameters
LiveView
To view video scene on background in Karaoke window. Can view also on alternate video (Tele) with a spectacular effect!
Warnig! This function require very much CPU-Time (See Notes)



Audio

Audio Format
To choose audio format and quality characteristic
Recording only on Hardware format
To limit audio format only on hardware supported format
Record Mixer
To choose audio source and recording level
Audio property
To choose sound-card source and characteristics

Video

Video driver
To choose video driver source
(1)Video source
To choose video/Foto camera source

(1)Video Format
To choose video format (RGB, etc) and video dimension
(1)Video Display
To choose display modality
(1)Video Compression
To choose video codec for compression
(1)Active video overlay
To activate Overlay software from video driver

(1) This function completely depends from specific video driver software, some could be not available.

Ask for compression on activate
To choose video codec for compression on video capture activate.
Use it if driver software don't "remember" last used codec.
Capture Audio
To activate Audio recording on video capture.
Capture rate
Number of photogram to capture every second (Frame Per Second)
Default value 15 -It strongly depends from Photo/video camera characteristics
Preview rate
Number of photogram to capture every second (Frame Per Second) durind video preview.
Warnig! This parameter is used also for the function "LiveView" and it influences a lot CPU-Time used (See Notes)
Max video recording time
Max tim for video recording.

Checks

Operation at capture end
Control to execute for the captured audio-video.
Warning! If you choose "No check to save" the program can begins a new one capture session without to verify the previous one.